Cathedral of Our Lady of the Angels
555 W. Temple Street, Los Angeles, CA 90012

Not often listed as a place to see, the Cathedral of Our Lady of Angels is a beautiful, modern church.  The grounds and interior are stunning. 

Ahmanson Theater, Mark Taper Forum, Dorothy Chandler Pavillion
Grand Avenue between Temple and First
The Music Center consists of the Ahmanson and the Mark Taper (theater venues) and teh Dorothy Chandler Pavillion (opera) and the Walt Disney Concert Hall.  The first three are together on one block, and Walt Disney is the next block South. 

Between Temple and 1st, and Grand and N Spring

Grand Park is a huge park that stretches several blocks between Grand Ave at the Music Center to City Hall.  There's a huge fountain which is beautiful at night, and at Christmas, it's where the city's Christmas Tree is placed.  You can get a great view of the park from the City Hall Observation Deck, although it has been closed during Covid. 

111 North Hope Street, Los Angeles, CA 90012

Just to the west of the music center is the DWP Building, and a beautiful pool.  Sadly, with the drought, I have not seen the pool filled in recent years, nor have I seen the fountains on even when the pool was filled.  For the time being, you can skip this sight.   

111 S. Grand Ave., Los Angeles, CA 90012

Designed by Frank Gehry, the Walt Disney Concert Hall is a must-see.  It's a stunning building, both inside and out.  Also, be sure to wander the upstairs, with it's winding silver walkways and beautiful garden.  Photographers come here all the time.  One of my all time favorites. 

212 S. Grand Ave., Los Angeles, CA 90012
Believe it or not, I have yet to go inside.  Shame, shame!  But the building is stunning, and the garden nearby is lovely. 

While on Grand, be sure to walk to the center divider in the middle of the street.  There are several openings looking down into Lower Grand, the street below.  You can actually go down to Lower Grand and look up, it's pretty cool.  Lower Grand is also a favorite for street and car photographers.  

MOCA, California Plaza, Angel's Flight Railway
At Grand Ave between 2nd and 4th Streets
There's some pretty interesting public art and architecture.  At the east end of the plaza, there's actually a public theater space and the Angel's Flight Railway.  When open, you can take the short ride down, which will lead you to Grand Central Market. 

To the East - Grand Central Market
308 south Hill Street, Los Angeles, CA 90013

If you want to take a break, head 2 blocks east of Grand and you'll find Grand Central Market, an open space filled with food stalls of all kinds.  The original Eggslut opened here, with constant lines.  

304 S. Broadway, Los Angeles, CA 90013
Just across the street from Grand Central, to the East, is the Bradbury Building, a stunning building known for it's appearance in Blade Runner, among other films.  Many go to Grand Central and never realize this building is next door.  Prior to Covid, LA City tours would regularly stop here. 

To the West - 400 South Hope; Ketchum Downtown YMCA, Bank of America

4th and Hope Street
Alternatively, you can head west at 4th Street, and you'll see some lovely public art in front of the Ketchum Downtown YMCA and at the Bank of America Building between 3rd and 4th.  If you continue further west, you'll hit the Bonaventure. 

To the West - The Bonaventure
404 S. Figueroa Street, Los Angeles, CA 90071
Continuing west on 4th from the YMCA, you'll find some skywalks that will connect to the Bonaventure.  Although dated, it's still a marvelous architectural construct.  It's also famous for lots of films, including Clint Eastwood's
In the Line of Fire.
Continuing South - Bunker Hill Steps
W 5th Street, Los Angeles, CA 90071
If you continue south from Grand or Hope Street, you'll come to the Bunker Hill Steps, which will allow you to descend to the Los Angeles Central Library.  There's also some fun architecture and public art to see.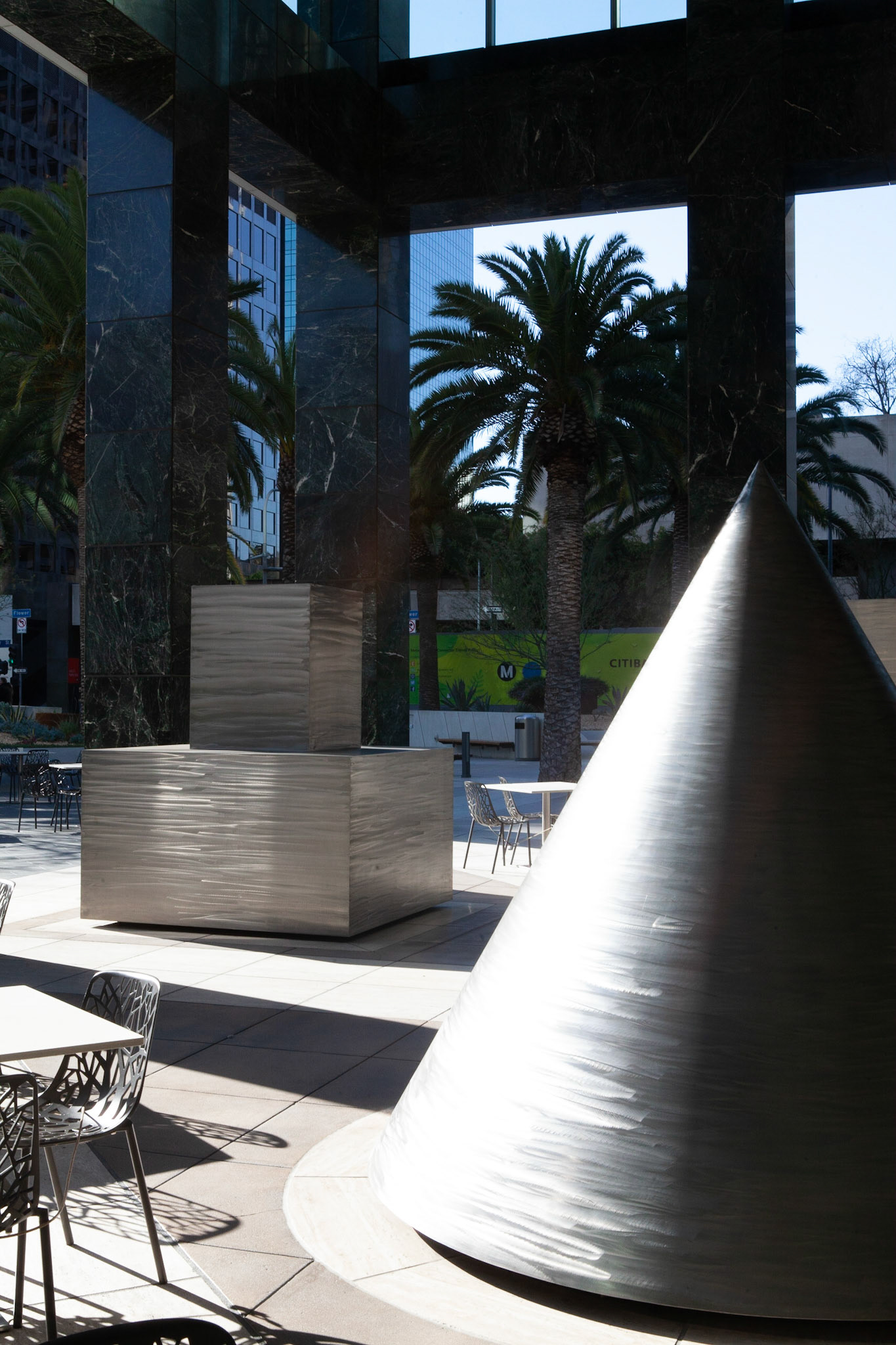 630 West 5th Street, Los Angeles, CA 90071
The LA Central Library is architecturally impressive and well worth the walk through.  The Maguire Gardens to the West are also lovely. 

To the East - Biltmore Hotel
506 S. Grand Ave., Los Angeles, CA 90071
Heading East from the Central Library is one of LA's grand hotels, the Millenium Biltmore.  It was an instagram favorite, especially the dizzying stairs. 

Continuing East - Pershing Square
Between 5th and 6th and South Olive and South Hill
One block east of the Biltmore is Pershing Square.  It's an artsy park that also houses a skating rink in the winter.  Even better, go to Perch, at 488 S. Hill Street, Los Angeles, CA 90013, have a drink and take in the beautiful view over LA and Pershing Square.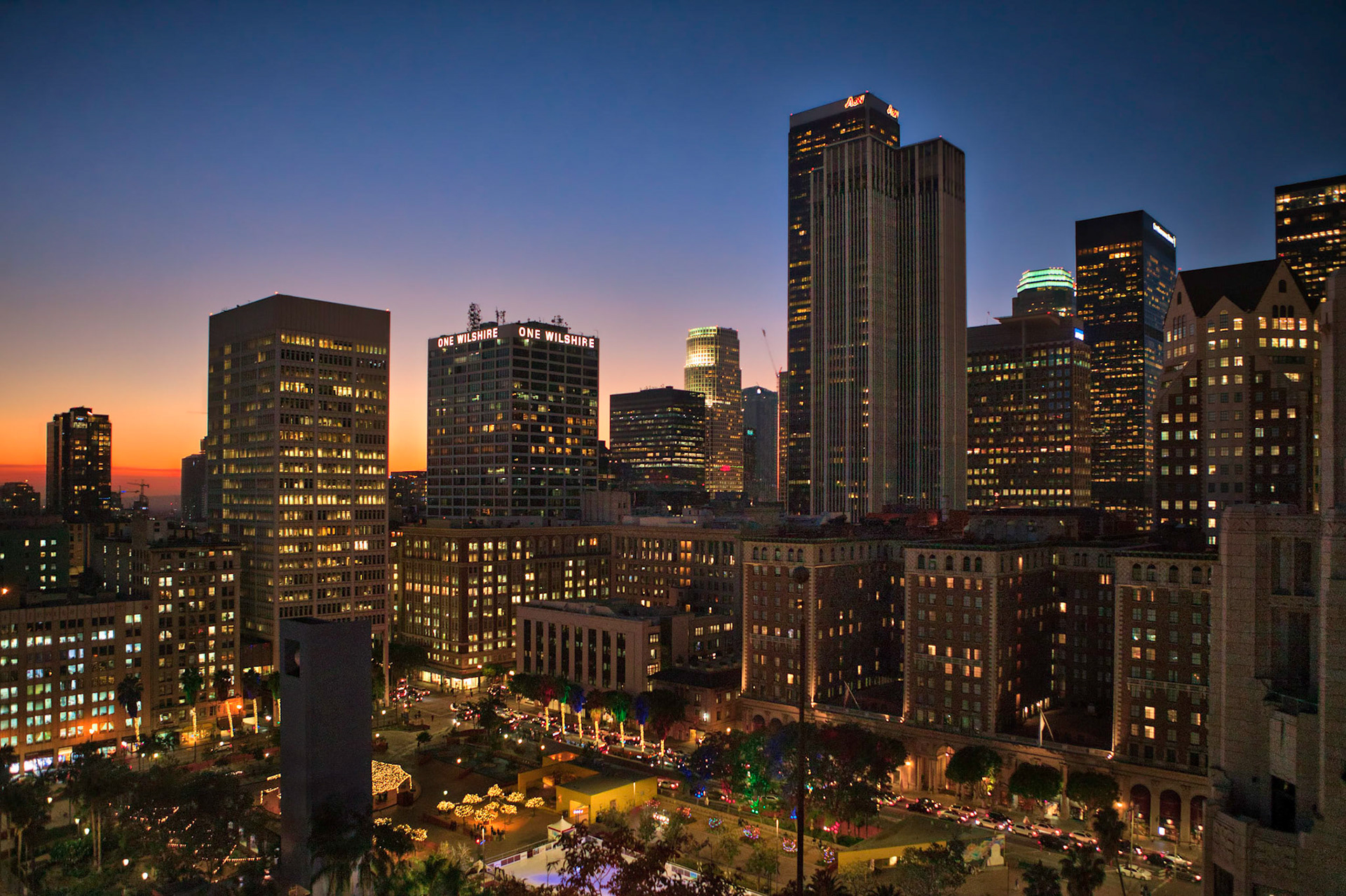 Continuing East - The Last Bookstore
453 South Spring Street, Ground Floor, Los Angeles, CA 90013
Two blocks east of Pershing Square is a tourist and photographer favorite, the Last Bookstore.  You have to give these guys credit for being inventive.